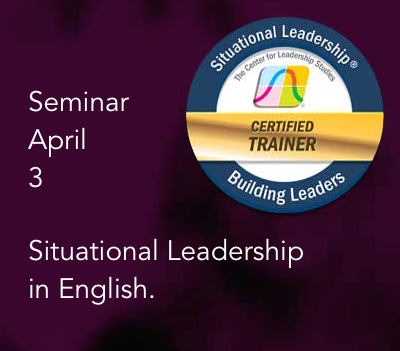 Event
Seminar Situational Leadership
Do you want to learn how to adapt the way you lead to meet the actual needs? Welcome to our Situational Leadership-seminar on April 3rd!
We are all unique, with different sets of characters, skills and needs – and the diversity is what makes us strong together. But it also provides you with challenges as a leader.
Could you act differently as a leader by changing the way you lead, to enhance your co-workers performance? Which sets of skills do you need in order to adapt your style?
Our leadership training course Situational Leadership is based on Paul Herseys Situational Leadership Model, which over the years has become the one of worlds most recognized and utilized leadership tool.
"I've learned how to improve my leadership", is a common reflection from those who participated in Situational Leadership.
So if you want to get better at reading a certain situation and adapt the way you lead to meet the actual needs of your co-worker – then you are most welcome to share a coffee and some breakfast with us.
Lena Kardefelt will give you insights on Situational Leadership and share her experiences as a course leader.
The seminar is free of charge and breakfast is on us!
When: April 3, 8 am – 9.30 am
Address: Gällöfsta Konferens City, Biblioteksgatan 29 Sthlm
Tags:
event
,
seminarium